Joachim von Ribbentrop denied that the Second Vienna Arbitration had violated any terms of the Molotov-Ribbentrop Pact, as Vyacheslav Molotov had accused. Furthermore, Ribbentrop complained that the manner in which the Soviet Union had take over the Baltic States was in itself a violation of the pact.
for more details read Ribbentrop's own words at link below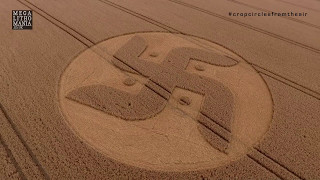 Many hypotheses have been formulated about the strange origins of these formations. What strikes me the most is that this time the design in question is a swastika, nothing more, nothing less.