By Carolyn Yeager
TRADITIONALLY, GERMANY'S CURRENT LEADERS LAY FLORAL ARRANGEMENTS IN the national colors of red and gold in the courtyard of the Bendlerblock, the large army headquarters in Berlin from where the plot leaders staged their attempted takeover of the German government and military known as Operation Valkyrie in 1944. It's still not known whether this year's 75th commemoration will be a more elaborate affair.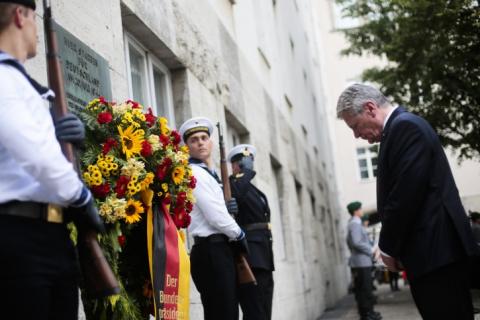 President of Germany bows his head in remembrance of the failed conspirators during a past July 20th commemoration ceremony at the Bendlerblock Army headquarters in Berlin.
---
But the yearly remembrance always gives the distorters of German history another opportunity to make their case for what a horrible, hateful dictatorship Germans suffered under with Adolf Hitler, and what heroes were those men who hatched and carried out a plan to kill their Leader—and as many others, their fellow officers and even some allies, along with him as 'collateral damage' demanded. It turned out to be four killed, 13 injured, without getting Hitler.
To make the violent murder attempt appear more heroic, various establishment hacks make things up which are accepted without question by readers. For example, a quote on the main Wikipedia page reads: "Little could be done against Hitler as he was heavily guarded, and none of the plotters could get near enough to him." [attributed to H. Kurtz (1945-6)].This is patently false. Hitler was NOT heavily guarded at all and the top military brass had access to him without being disarmed. They all carried loaded sidearms, giving them the opportunity to shoot him on many occasions but none ever did. The Fuehrer reflected to Hermann Giesler afterward that they were cowards who could not face him with their dastardly act man to man, but dreamed up elaborate bomb plots which they themselves would survive and even escape detection.
In regard to this, Giesler tells a revealing story* of a day in October 1940 when he met Hitler for lunch in a small Munich restaurant he enjoyed, while en route from Spain and France to Italy. After finishing their meal, the two men sat talking alone at the table among the other restaurant-goers. Giesler recalls Hitler pausing in the telling of his frustrations with Franco to gaze around abstractedly and, noticing a few patrons looking his way, acknowledging them with a smile and gesture of greeting. I can imagine they would be surprised to say the least, but no one approached or disrespected the Leader's privacy. Quite a picture! Shortly, Hitler hand-signaled his security detail, stood up, and they left the restaurant (leaving a generous tip, no doubt—Hitler was no chump in that department). There was nothing like the amount of fuss that today would accompany an American president stopping to have lunch somewhere! [*The Artist Within the Warlord, Yeager & Kriessmann, 2017, page 74-5]
What motivated the plot leaders?
Interestingly, the common dissatisfaction noted in the most determined and central of the plotters was on religious and moral grounds. These men took their faith more seriously than the average and saw the actions against Poland and the Jews in particular as unacceptable to them personally and to Germany as a Christian nation. They were not particularly representative of Germans as a whole.
Their secondary objection was the harm caused to Germany's reputation in the rest of the world, and especially they wanted to work with the Allies, not against them—somehow imagining that it was possible even after all the statements by Churchill and Roosevelt that, Nazis or no Nazis, Germany had to go. It was the Germans themselves those leaders objected to! But these men could not see that—their opinion of themselves was so high and they were so convinced that only Hitler was the problem. Here is a rundown on just six of the most committed resistance leaders.
Claus von Stauffenberg was of aristocratic birth, both a "Graf" (Count) and a "Schenk" (cupbearer/butler of noble rank), the third of four sons of one of the oldest Catholic families in Swabia. He took up a military career and was an early supporter of the racialist and nationalist policies of the NSDAP; supported the Polish campaign and the Battle of France. His brothers became involved with the Kreisau Circle, a small, secretintellectual dissident group that discussed how they would reorganize the German government when the Third Reich fell, which they expected. Over time, the anti-Nazi rhetoric from the outside world and the rumoured treatment of the Jews wore down Stauffenberg's enthusiasm for Hitler's policies.
After suffering a serious injury while fighting in Tunisia in April 1943, in which he lost his left eye, his right hand and two fingers from his left, he was propositioned by the conspirators, especially by Henning von Tresckow. Stationed at army headquarters in Berlin, Stauffenberg's superior was General Friedrich Olbricht, who, being in control of an independent communications system for the reserve army, was designing Operation Valkyrie as a plan to sweep Hitler's regime from power in the event of his death. When Von Tresckow was deployed to the Eastern Front, Stauffenberg gained control of the resistance in Berlin. He was now ready to go all in.
Hans von Oster, the son of an Alsatian pastor of the French Protestant Church, was the earliest opponent of Hitler among the conspirators. He joined the Abwehr in 1933, where he met Hans Bernd Gisevius and Arthur Nebe of the Gestapo, who also became conspirators, and became a confidant of Abwehr head Admiral Wilhelm Canaris. He soured on the Hitler regime in 1935, and came up with a plan to overthrow the Fuehrer because of fears he would plunge Germany into war with the West over Czechoslovakia. When those fears were not realized, the plot dissipated, but Oster remained a committed foe and participant in every plot to bring down Hitler from that time onward. In 1941, his Abwehr group established connections with Henning von Tresckow's in Army Group Centre, and in 1942 he recruited Friedrich Olbricht, head of the General Army office at the Bendlerblock. In 1943, Oster supplied British-made bombs for Tresckow's group to place on Hitler's plane, which however failed to go off. Later that year he was placed under house arrest for using his Abwehr connections to help Jews avoid arrest and leave the country. When Canaris' revealing diaries were discovered in April 1945, Oster was hanged along with him in the wake of the July 20 plot.
Helmut Stieff, born in West Prussia, was commissioned as a lieutenant of infantry in 1922. He joined the Wehrmacht General Staff in 1938 and, in recognition of his excellent organizational skills, was appointed Chief of Organisation at OKH in 1942. But from 1939 onwards, as he related to his wife in letters, his Christian disapproval of Adolf Hitler's conduct of the war in Poland was intense. General von Tresckow invited Stieff to join the resistance in summer 1943. Due to his position at OKH, Stieff was able to store and provide explosives for the various assassination attempts. On 7 July 1944, he personally saw to placing timed bombs in the uniforms to be shown to Hitler in Salzburg, but Hitler left early without looking at the uniforms. That's when Stauffenberg decided to undertake the July 20 plan himself. Stieff was arrested the evening of the 20th. After receiving the death sentence at his trial in the People's Court, Stieff wrote to his wife : "(It) cannot be anything else. It is just. I erred and did wrong. It was not right to arrogantly interfere as a little human being with God's doing."
Henning von Tresckow, another Prussian from a very old, distinguished family, was a key player in the resistance group that formed within the headquarters in Army Group Centre. He was another one who became ever more disenchanted with Hitler every time something happened that went against his high moral and honor code. Already in September 1941, still in the beginning of the Russian campaign, he was sending representatives from Army Group Centre to opposition groups in the homeland (for example those headed by retired general Ludwig Beck, politician Carl Friedrich Goerdeler and deputy Abwehr head Hans Oster) as noted inUlrich von Hassell's diary.
It was Tresckow who hatched the plot to place a (British-made) bomb in the form of a bottle of Cointreau on Hitler's plane when he visited troops in Smolensk in March 1943. Tresckow asked the Fuehrer's travelling companion Col. Heinz Brandt to take the bottle to Col. Helmuth Stieff as payment for a lost bet, which Brandt readily agreed to. But the bomb did not detonate, perhaps because of too low temperatures in the luggage compartment. Upon landing, someone at that end was alerted and retrieved the package.
When the July 20 attempt failed, Tresckow, knowing his part would be discovered, committed suicide at the front on July 21, doing his best to disguise it as a partisan act. He may have thought he was acting out of personally honorable and Christian motives, but the treasonous behavior within Army Group Centre, and its collapse, was responsible, as much as any other single cause, for the failure of the Russian campaign and the downfall of the Third Reich.
Dietrich Bonhoeffer and Hans von Dohnanyi. Bonhoeffer was a young theologian and pastor from a large, well-educated family who came to believe in following the example of Christ as closely as possible. He opposed Hitler from the very first day of his chancellorship, with his biggest complaint having to do with the Jews … a statement of faith issued from his church in August 1933 affirmed God's faithfulness to Jews as His chosen people. He founded the 'Confessing Church,' which declared that Christ was the head of the Church, not the Fuehrer. By 1938, Bonhoeffer had made contact with members of the German Resistance through his brother-in-lawHans von Dohnanyi, a Hungarian-born Jew who was brought into the Abwehr, the German military intelligence service, by Hans von Oster. Bonhoeffer was also given a position in the Abwehr on the pretext that his wide ecumenical contacts would be of use to Germany. Under this cover, Bonhoeffer served as a courier to reveal the existence and intentions of the German resistance to the Western Allies, in hopes of gaining their support.
Dohnanyi worked in the Abwehr to help Jews flee the country with sufficient money. During February 1943, he helped the Tresckow assassination attempt with the bomb that failed to go off in Hitler's plane. Then, in April he was arrested by the Gestapo, along with Bonhoeffer, on unrelated charges of foreign currency violations regarding funds he had transferred to a Swiss bank on behalf of Jews. His trial was delayed and he was sent to the Sachsenhausen concentration camp in 1944 (not a bad place); after the July 20 plot failed, his involvement came to light and he was hanged.
Bonhoeffer was sent to Tegel military prison where he awaited trial for a year and a half. Upon the failure of the assassination plot, Abwehr documents revealed his close association with the conspirators. In April 1945, the discovered diaries of Wilhelm Canaris sealed the fate of the entire Abwehr network and they were hanged just days before the arrival of their US liberators.
Each of these men could be called extremists of a sort. Their extremism made them heroes to some and villains to others. It seems the more intense their Christian beliefs, the more upset they were over the National Socialist treatment of the Jews. They saw it as the responsibility of the Christian to protect the Jew from harm. As I see it, what they were mostly concerned with was losing friends and allies around the world. Though they thought of themselves as loyal German patriots, they could not put loyalty to state and nation (fellow Germans) in distress ahead of loyalty to God, the Church and the approval of the outside world. Allies were more important to them than German freedom, independence and honor – just as with the current German leadership who inherited it from them.